Cloud Data Management Solutions
Data volume keeps growing, but not all data has equal value. Cloud data management enables forward thinking companies to reduce the cost of managing enterprise data and still provide security, compliance, performance and easy access. As content ages, it loses value, but organizations can still monetize their less current data through modern SaaS-based solutions.
SOLIXCloud delivers all of the capabilities required to strike the perfect balance between historical and current data management. With a complete suite of compliance features for structured, unstructured, and semi-structured data, SOLIXCloud offers a fully managed service for all enterprise data.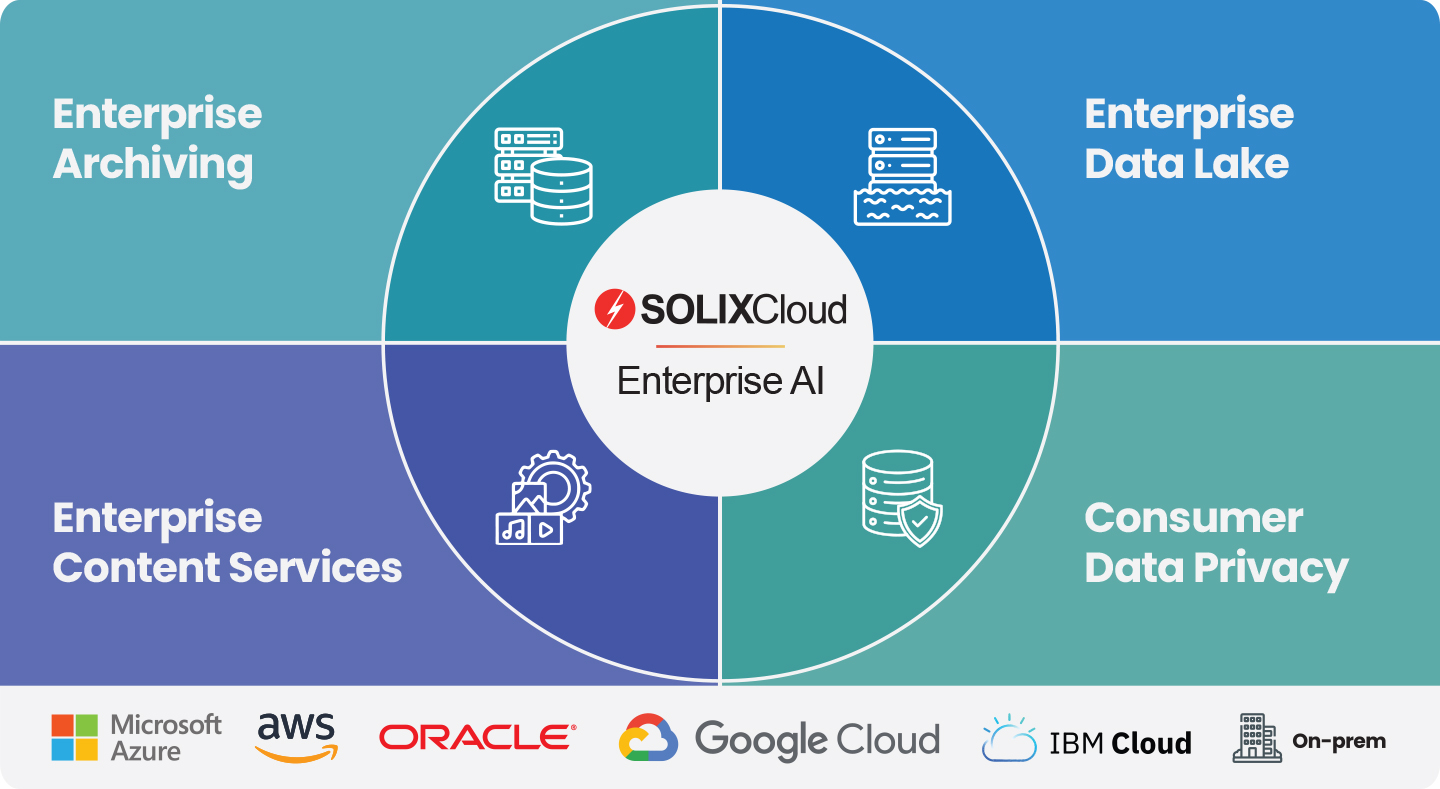 Connect, Govern and Search your Enterprise Data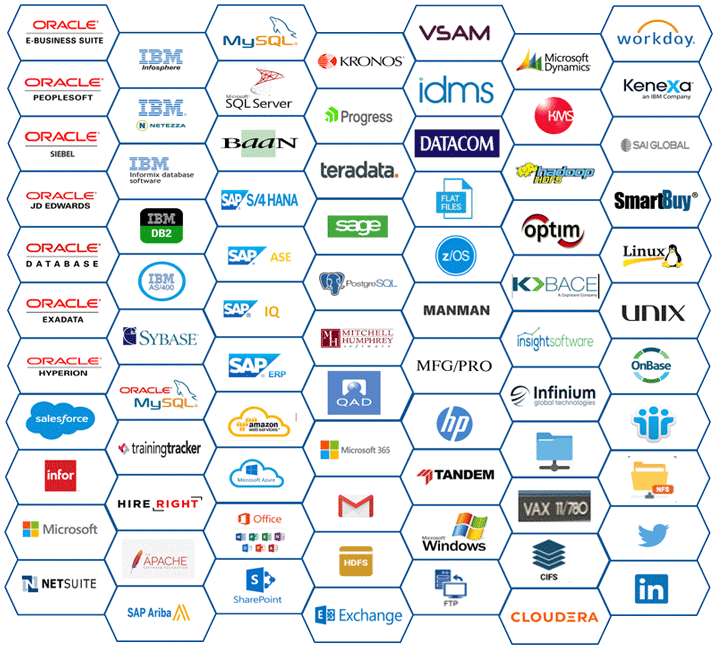 Solix Connect
Modern organizations must manage all enterprise data including legacy mainframe systems, ERP, CRM, file stores, relational/non-relational databases, and even SaaS environments like Salesforce or Workday which have become the new systems of record.
SOLIXCloud provides easy to use cloud data management as-a-service with a comprehensive capability to connect, ingest, and manage any type of data from any source.
Connectors that support mainframe applications (relational/non-relational, flat files etc.)
Connectors for virtually any type of database or operating system
Connectors to SaaS-based services such as Workday, Salesforce, Netsuite, Kronos and more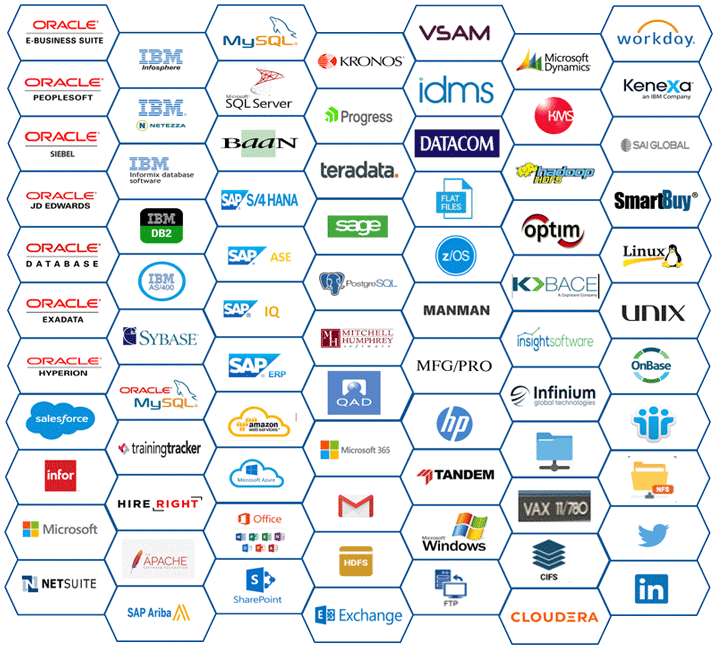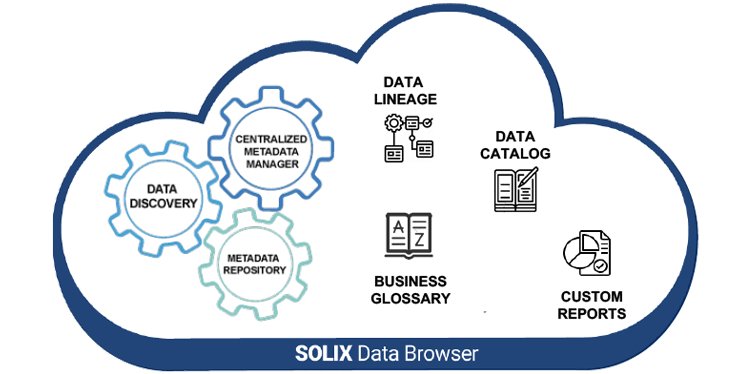 Solix Metadata Management
Solix metadata management is an end-to-end framework to explore all enterprise metadata and data lineage from a centralized repository and business glossary.
Build metadata catalogs, and establish policies and processes with specific business context to ensure enterprise data can be integrated, accessed, shared and analyzed for proper data management and data governance.
Explore your enterprise data landscape with catalogs
Understand the data lifecycle
Establish consistent descriptions and business context for your data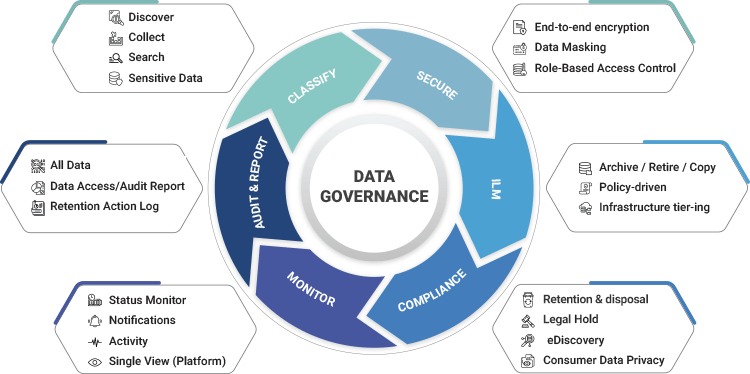 Solix Data Governance
Managing data throughout its lifecycle carries inherent risks and opportunities for the organization. All enterprise data must be kept secure and compliant with data privacy and availability for litigation orders. Proper data governance requires continuous monitoring and audit availability as well as support for compliance policies and consumer data privacy.
SOLIXCloud delivers comprehensive data governance capabilities:
Data classification and discovery of sensitive data
Robust security including encryption, data masking and role-based security
Policy-driven Information Lifecycle Management (ILM) with legal-holds and comprehensive data privacy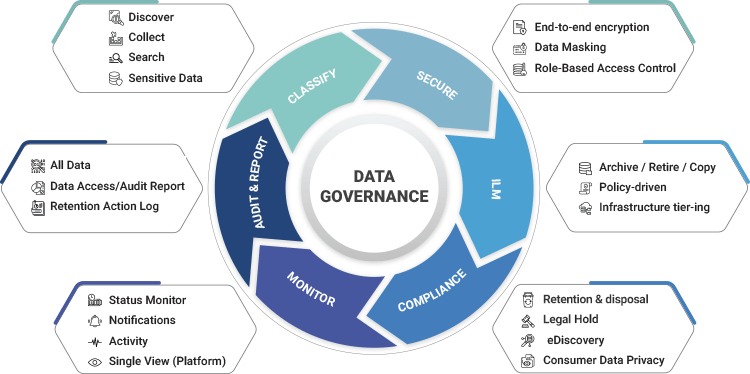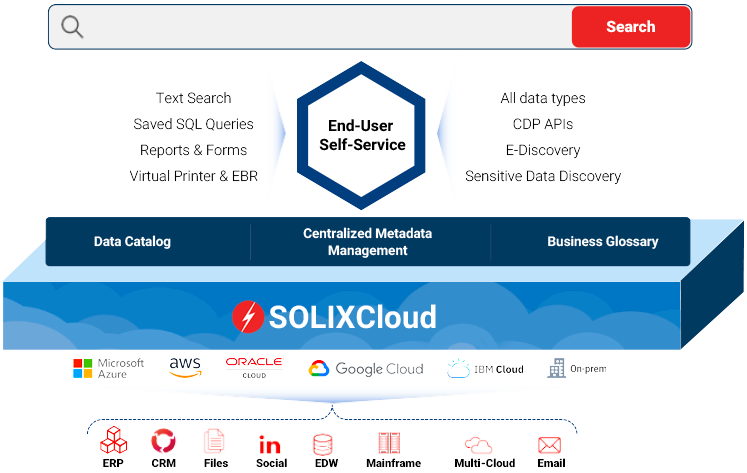 Solix Discovery
Organizations need to search and query all enterprise data. Users must access transactions from active and decommissioned ERP and CRM systems, HR files and perhaps old X-rays for a patient. Since this data is stored in a wide variety of formats, search methods must support different metadata models for simple end-user access even if the system of record that produced the data no longer exists.
SOLIXCloud data management provides powerful enterprise search to enable self-service access to any data by authorized users.
Centralized metadata management
A data catalog and business glossary
A wide variety of search methods
The World's Leading Companies Choose Solix
Choose the SOLIXCloud Offering for Your Organization
Fully Managed

Low Cost & Pay-as-you-go

Secure & Compliant

24/7 Global Support
ECSEnterprise Content Services

SaaS Offering

Starting at0.36 per GB/mo

Secure and compliant cloud file storage and archiving service with advanced search, governance and self-service features. Remote professional services

---

CDPSolix Common Data Platform (CDP)

SaaS Offering

Starting at1,499/mo

A SaaS based Cloud Data Platform with advanced features to manage your structured and unstructured data for compliance and advanced analytics. Backed by professional services.

---

CDP PrivateSolix Common Data Platform (CDP)

Hosted Offering

Starting at5,999/mo

A privately hosted Cloud Data Platform with advanced features to manage your structured & unstructured data for compliance & advanced analytics. Backed by professional services.

---
Secure and Compliant Cloud Data Management
Featured Resources
White Paper

Replace IBM Infosphere Optim with SOLIXCloud

White Paper

Guide to Digital Transformation: Cloud Data Management

Newsletter

How to Build an Enterprise Archive in the Cloud
Need Guidance?
Talk to Our Experts
No Obligation Whatsoever