SOLIXCloud Application Retirement reduces the risk and complexity of application decommissioning projects and enables IT organizations to successfully retire legacy applications, meet compliance objectives and maintain data access for users. SOLIXCloud Application Retirement provides a unified Information Lifecycle Management (ILM) framework to decommission legacy packaged and custom applications across relational databases and mainframe platforms. Associated unstructured data including report extracts (.PDFs, Excel, .csv), documents and multimedia files are also supported.

Capabilities
Validation Before Purge

As part of application retirement process, Solix creates a copy of legacy applications' data, including custom tables in a cloud storage archive repository, then validates the retired data to ensure it has moved data in its entirety before the source data is purged.

Print Report Archiving

For legacy applications that are built on proprietary databases with no JDBC support, organizations can use the print report archiving feature to capture business reports in .pdf formats. Organizations can also use this feature for all legacy applications as it helps access regularly used reports without having to rebuild them from retired data.

Easy Access to Retired Data

Access to retired data is made available to authorized users through a business user-friendly portal. Through well-defined role-based access controls (integrates with LDAP/SSO/AD), authorized users can easily access retired data using full text search, saved queries, and custom report features to meet compliance, eDiscovery, and other regulatory and business requirements.
Metadata Driven

Solix automatically captures and stores the structural and relational metadata to allow the creation of custom retirement configurations and business objects. Metadata also helps preserve data integrity and implement a comprehensive data governance & Information Lifecycle Management (ILM) strategy based on business and regulatory requirements.

Create Enterprise Business Records

EBR is a denormalized, point-in-time snapshot of a business transaction, which may include structured, semi-structured, or unstructured data elements (invoice, customer data, spreadsheet, documents, etc.) EBRs support both the regulatory and analytic use cases by providing a quick and well-structured access to complete transactional data. EBRs can be text searched or queried. Also available for authorized third-party applications through APIs.

Policy-Based Retention & Legal Hold

With its comprehensive and flexible Information Lifecycle Management (ILM) and legal hold features, Solix enables long-term retention of data to meet compliance and legal requirements. If an applicable regulation demands for immutable storage of data, organizations can leverage the various WORM storage options that Solix integrates with.
Key Features
Retire/decommission any application at a low fixed monthly cost
Data Access through full-text search, forms and reports
Text search Enterprise Business Records (A denormalized snapshot of business records).
Ad hoc query and report on archived data.
Meet compliance goals with policy-based data retention and legal hold
Reduce maintenance, infrastructure and license costs of legacy applications
Why choose SOLIXCloud Application Retirement?
Hosted on Microsoft Azure, SOLIXCloud Application Retirement delivers a fully managed low-cost, scalable, elastic, secure, and compliant data management solution for all enterprise data.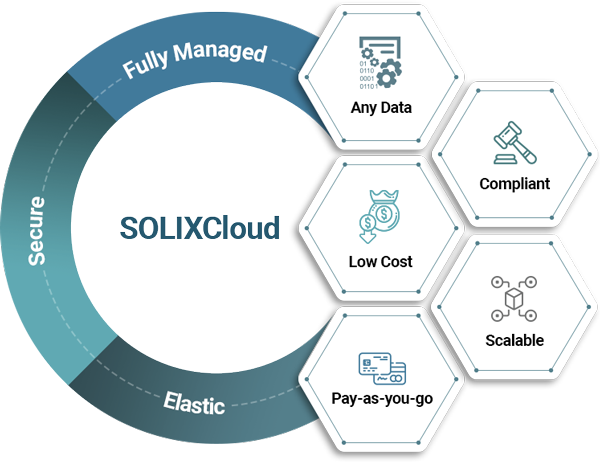 White Paper
Embrace the New Cloud Paradigm to Fuel Digital Transformation
With Data Management Powered by Solix Common Data Platform