SOLIXCloud Email Archiving provides a cloud based archive for all email data to curb the rampant growth, cost, and risk of mismanaged corporate email and to ensure compliance with the most demanding business and legal requirements.
ILM controls manage the email data throughout its lifecycle, and an original copy of every email is created in a separate, immutable storage container for long term retention and preservation. SOLIXCloud Email Archiving provides an indexed archive separate from the production system that supports text search, auditing, permissions and legal hold to preserve email until the litigation hold expires or is removed.
Cloud email archiving is well suited for small to medium sized businesses and features ease of use, flexible plans and low cost, bulk data storage. Compatibility with all popular email solutions including Office 365, Microsoft Exchange, Notes, Google Mail, and other such popular environments.

Optimize your email system performance while allowing users to work as they always have, retrieving archived messages from Microsoft Outlook with full fidelity in a single click.

Key Features
Archive all email data along with attachments
Meet compliance goals with policy based retention & legal hold
Unlimited scale at a low monthly cost
Text search and retrieval
Reduce maintenance and infrastructure costs
Why choose SOLIXCloud Email Archiving?
Hosted on Microsoft Azure, SOLIXCloud Email Archiving delivers a fully managed low-cost, scalable, elastic, secure, and compliant data management solution for all enterprise email data.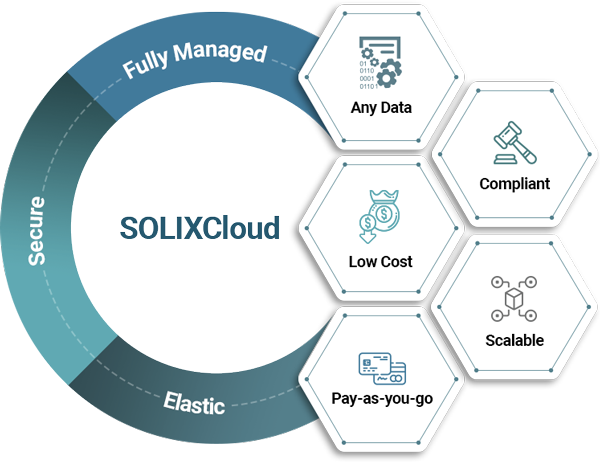 White Paper
Embrace the New Cloud Paradigm to Fuel Digital Transformation
With Data Management Powered by Solix Common Data Platform