Cloud Data Management for the Data-driven Enterprise
SOLIXCloud CDP delivers cloud data management as-a-service for modern data-driven enterprises. Built on opensource, cloud native technologies SOLIXCloud CDP helps companies manage and process all of their structured, semi-structured and unstructured data for advanced anaytics, compliance, infrastructure optimization and data security.
With features such as Solix Connect for data ingestion, Solix Data Governance, Solix Metadata Management and Solix Search, SOLIXCloud CDP offers a comprehensive cloud data management application framework to build and run data-driven applications such as SQL data warehouse, machine learning and artificial intelligence while fulfilling the ever growing data management requirements of complex data regulations, data retention and consumer data privacy.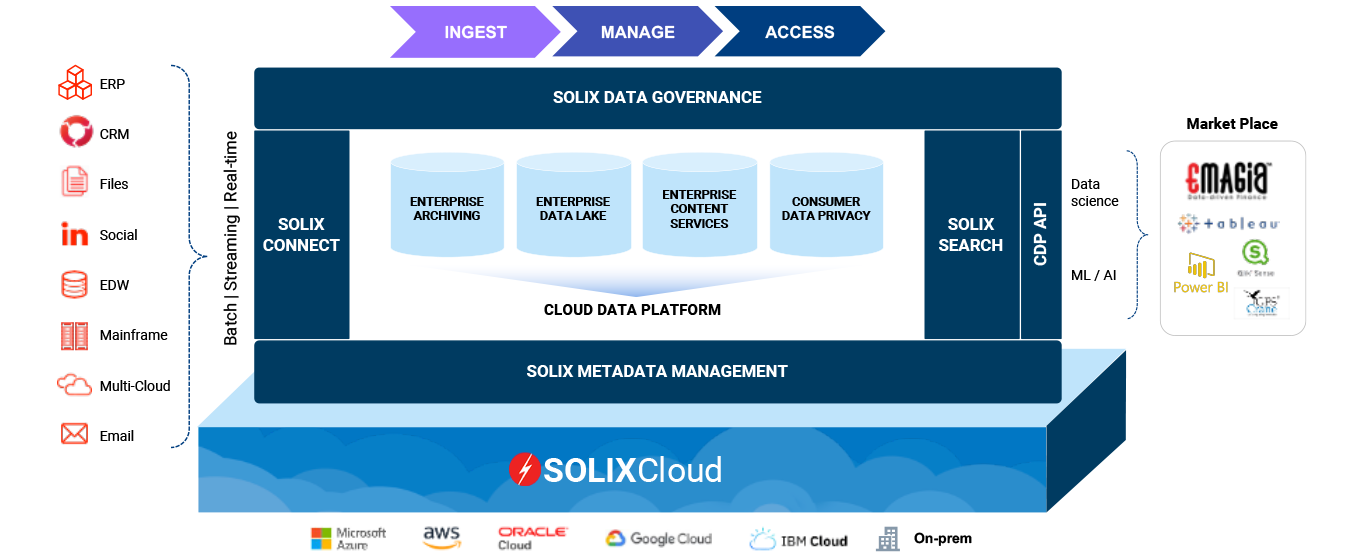 Secure and Compliant Cloud Data Management
Choose your SOLIXCloud CDP Deployment Options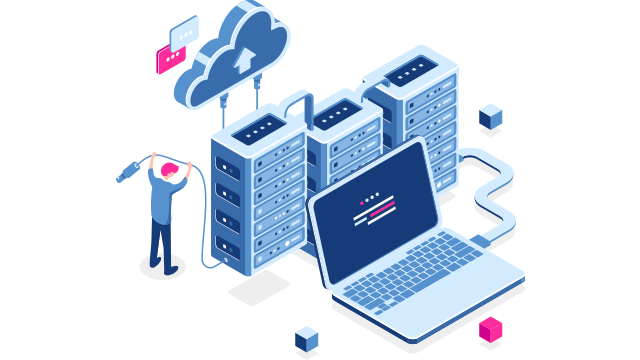 SOLIXCloud CDP Software as a Service (SaaS)
Hosted on Microsoft Azure this option provides cloud data management, security & compliance. Pay-as-you-go pricing includes all hardware, maintenance, application management and support at a low monthly cost.
Fully managed service by Solix
SLAs for a guaranteed availability
Cost efficient elastic pricing
QuikStart Services to onboard customers and complete projects efficiently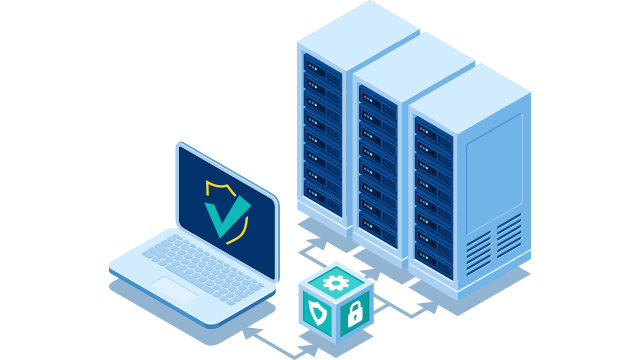 SOLIXCloud CDP Private
Host the same secure & compliant cloud data management platform either on-premise or at the cloud provider of your choice for direct organizational control.
Deploy on-prem behind your organization's firewall
Leverage your existing reserved cloud instances
Leverage your in-house application management for direct control
Choose Solix Managed Services as an option
QuikStart Services to onboard and complete projects efficiently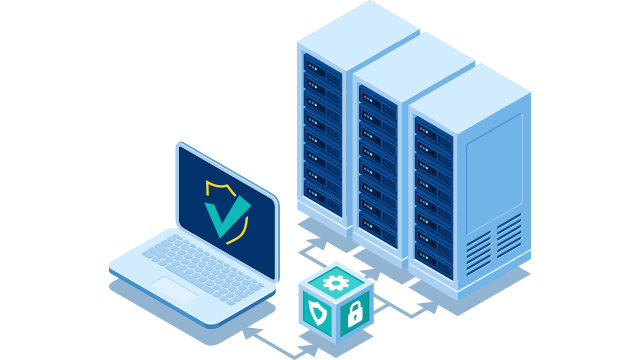 Cloud Data Management Solutions
Archiving as-a-service
Leverage Solix's application management expertise and Microsoft Azure's infrastructure for a fully managed, pay-as-you-go monthly service.
Connect, Govern and Search your Enterprise Data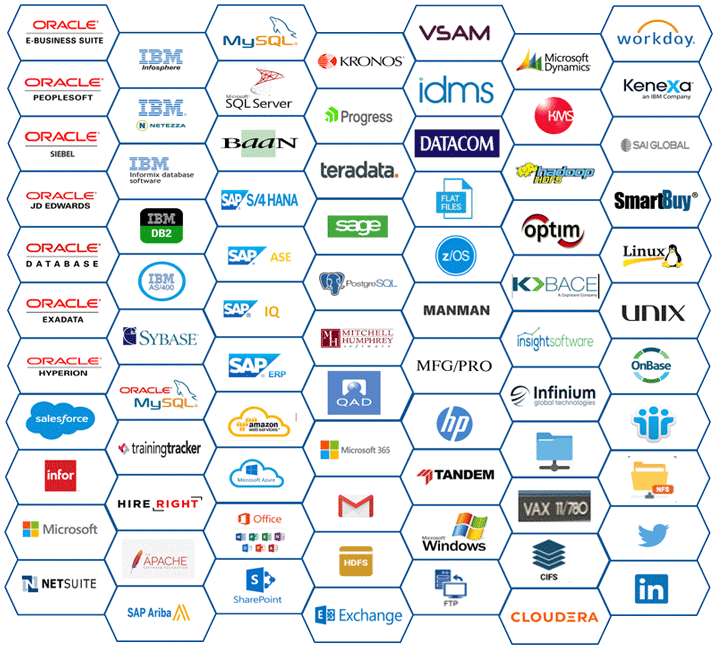 Solix Connect
Modern organizations must manage all enterprise data including legacy mainframe systems, ERP, CRM, file stores, relational/non-relational databases, and even SaaS environments like Salesforce or Workday which have become the new systems of record.
SOLIXCloud provides easy to use cloud data management as-a-service with a comprehensive capability to connect, ingest, and manage any type of data from any source.
Connectors that support mainframe applications (relational/non-relational, flat files etc.)
Connectors for virtually any type of database or operating system
Connectors to SaaS-based services such as Workday, Salesforce, Netsuite, Kronos and more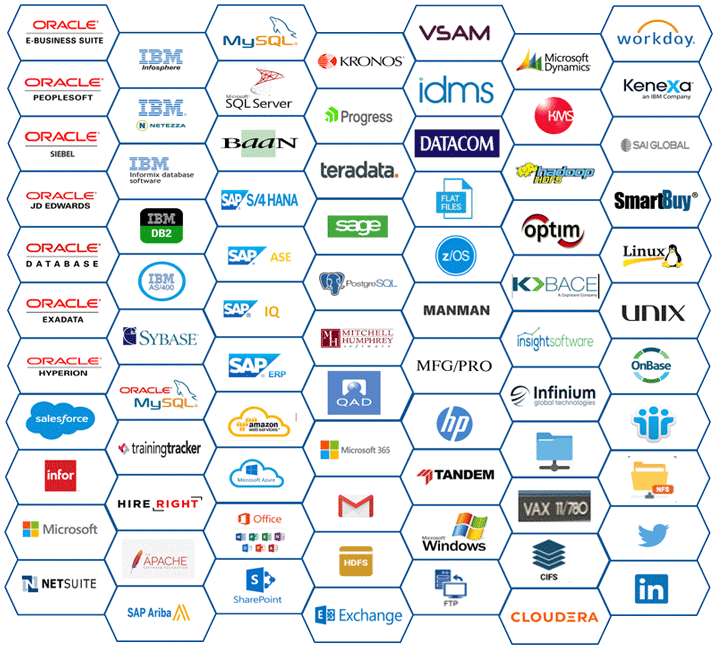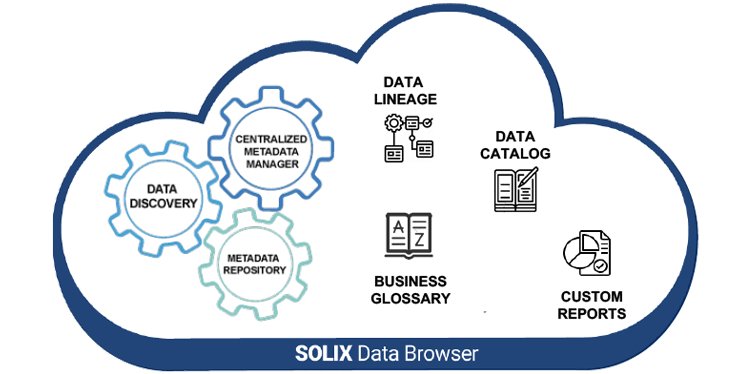 Solix Metadata Management
Solix metadata management is an end-to-end framework to explore all enterprise metadata and lineage from a centralized repository and business glossory.
Establish policies and processes with specific business context to ensure enterprise data can be integrated, acessed, shared and analyzed for proper data management and data governance.
Explore your Enterprise Data Landscape
Understand the data lifecycle
Establish consistent descriptions and business context for your data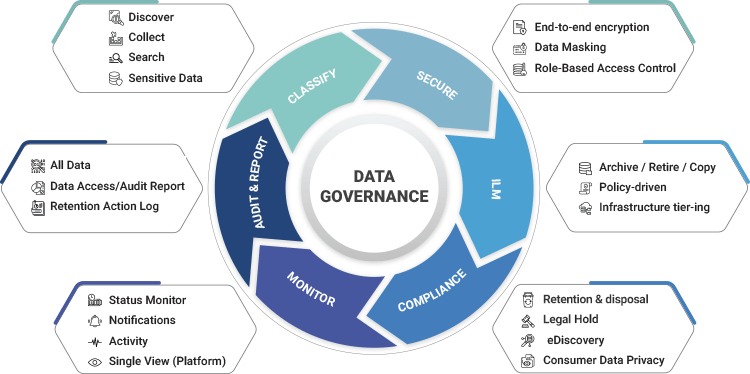 Solix Data Governance
Managing data throughout its lifecycle carries inherent risks and opportunities for the organization. All enterprise data must be kept secure and compliant with data privacy and availability for litigation orders. Proper data governance requires continuous monitoring and audit availability as well as support for compliance policies and consumer data privacy.
SOLIXCloud delivers comprehensive data governance capabilities:
Data classification and discovery of sensitive data
Robust security including encryption, data masking and role-based security
Policy-driven Information Lifecycle Management (ILM) with legal-holds and comprehensive data privacy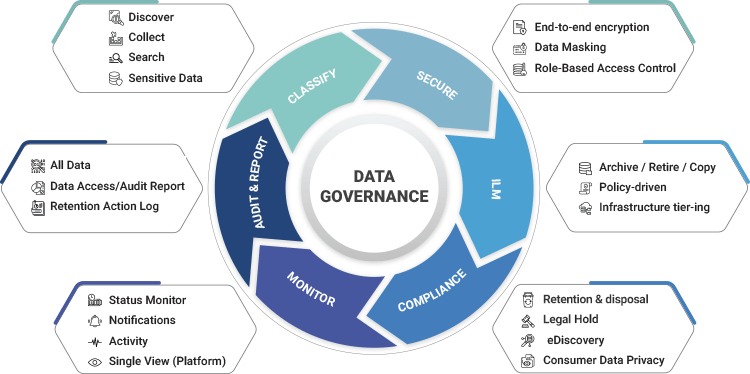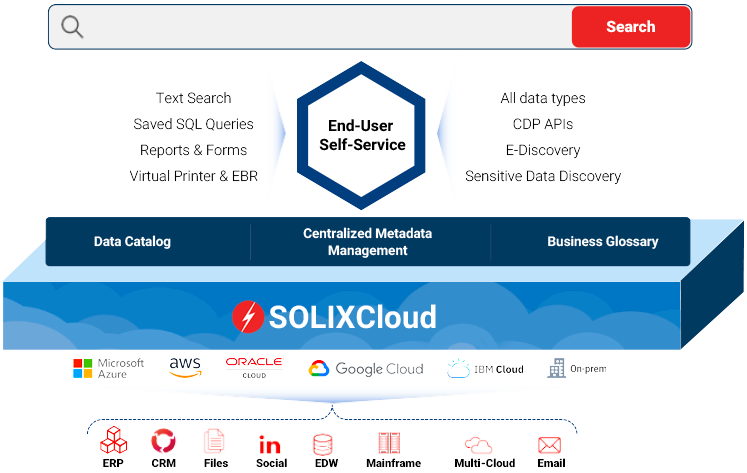 Solix Search
Organizations need to search and query all enterprise data. Users must access transactions from active and decommissioned ERP and CRM systems, HR files and perhaps old X-rays for a patient. Since this data is stored in a wide variety of formats, search methods must support different metadata models for simple end-user access even if the system of record that produced the data no longer exists.
SOLIXCloud data management provides powerful enterprise search to enable self-service access to any data by authorized users.
Centralized metadata management
A data catalog and business glossary
A wide variety of search methods
Why SOLIXCloud?
SOLIXCloud Common Data Platform (CDP) delivers a fully managed low-cost, scalable, elastic, secure and compliant cloud data management solution for all enterprise data.
Single Platform

Unified archive for structured, unstructured and semi-structured data.

Reduce Risk

Policy driven archiving and data retention

24/7 Support

Solix offers world-class support from experts 24/7 to meet your data management needs.

On-demand Scale

Elastic offering to scale storage and support with your project

Fully Managed

Software as-a-service offering

Secure & Compliant

Comprehensive Data Governance

Low Cost

Pay-as-you-go monthly subscription so you only purchase what you need.

End-User Friendly

End-user data access with flexibility for format options.
Related Resources
White Paper

Cloud-based Archiving, the Obvious Response to Data Growth

On-Demand Webinar

Archive Modernization Using Cloud

White Paper

Embrace The New Cloud Paradigm to Fuel Digital Transformation
Need Guidance?
Talk to Our Experts
No Obligation Whatsoever