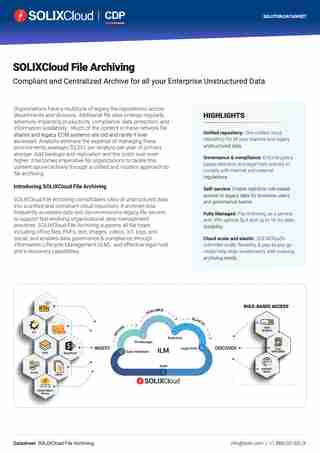 Organizations have a multitude of legacy file repositories across departments and divisions. Additional file silos emerge regularly, adversely impacting productivity, compliance, data protection, and information availability. Analysts estimate the expense of managing these environments averages $3,351 per terabyte per year of primary storage.
SOLIXCloud File Archiving consolidates silos of unstructured data into a unified and compliant cloud repository. It archives less frequently accessed data and decommissions legacy file servers to support fast-evolving organizational data management practices.
SOLIXCloud File Archiving supports all file types including office files, PDFs, text, images, videos, IoT, logs, and social, and enables data governance & compliance through Information Lifecycle Management (ILM), and effective legal-hold and e-discovery capabilities.
Download the datasheet to learn more.