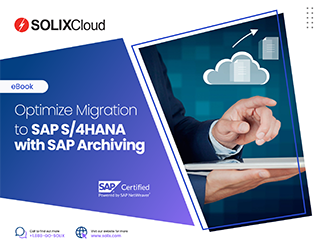 SAP S/4HANA offers a lean architecture, better user experience, and access to modern technologies like artificial Intelligence, the Internet of things, and advanced analytics. Additionally, with SAP announcing the end of support for ECC 6 by 2027, existing SAP customers must plan to migrate to SAP S/4HANA.
Read our eBook to explore the crucial role of data archiving in the successful migration to SAP S/4HANA. Migrating to SAP S/4HANA requires careful consideration of accumulated transaction data, business unit changes, and the management of ever-growing databases. Without a solid data archiving strategy, the migration process can be derailed and result in a costly and complex migration.
Discover how archiving less frequently accessed or redundant information can preserve historical enterprise data for compliance and reporting while keeping the TCO of the new SAP S/4HANA system manageable. Don't overlook the criticality of data archiving in your migration journey.
Download the eBook now.