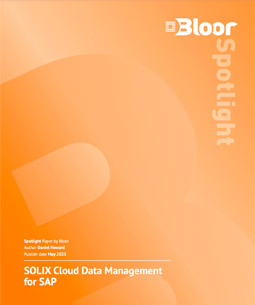 Get complimentary access to the full report
Are you looking to enhance your SAP data management capabilities and optimize your migration to SAP S/4HANA?
If your answer is Yes, then don't miss out on this opportunity to optimize your SAP data management capabilities.
Access the FULL SPOTLIGHT REPORT FROM BLOOR now and discover how SOLIX Cloud Data Management for SAP can help your organization reduce costs, improve performance, achieve compliance, and even optimize migration to SAP S/4HANA
The report examines in detail:
Active SAP Archiving: Control your SAP data growth, reduce storage costs, and enhance system performance while ensuring quick access to historical information.
Application Retirement: Streamline your landscape by retiring legacy SAP applications, securely retaining and accessing data, and eliminating maintenance costs.
Optimization for SAP S/4HANA Migration: Prepare your data for a smooth transition, ensuring data quality and integrity while reducing migration time and effort.