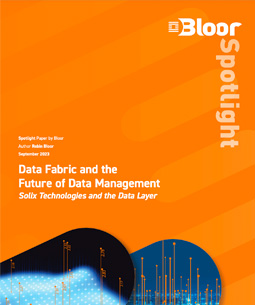 Get complimentary access to the full report
We are excited to share this latest spotlight paper by Bloor Research," Data Fabric and the Future of Enterprise Data Management." This paper delves into the evolving enterprise data landscape and explores how Data Fabrics are shaping the future of data management.
What is covered?
Data Fabrics Defined: Discover what Data Fabrics are and why they are gaining popularity in the world of data management.
The Challenges: Explore the challenges organizations face in managing the ever-growing volumes of data, and the deployment of data fabrics, from integration to governance and beyond.
Data Fabric Use Cases: Gain insights from real-world Use Cases of Data Fabric.
Future Proof your Data Management: Learn how Solix Data Fabric can transform your enterprise data management.