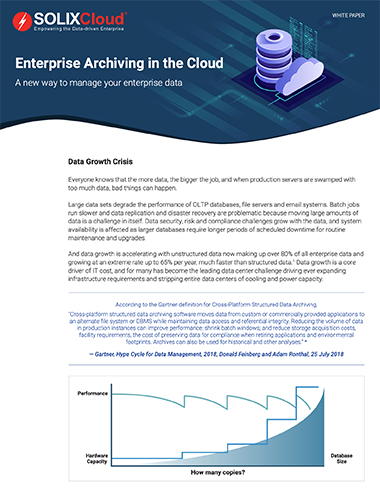 Data growth is accelerating at never before seen rates. It is imperative for organizations to manage this influx of data in order to harness the benefits of a data-driven enterprise.
Archiving delivers a unified Information Lifecycle Management (ILM) framework to archive and retire all inactive enterprise data — structured and unstructured — to optimize application performance, reduce cost and achieve compliance goals while preserving universal access to archived data for business reporting and advanced analytics.
Cloud archiving reduces the cost and complexity of archiving projects and helps IT organizations meet SLAs and improve the performance of enterprise applications. Small, medium and even large enterprises are challenged to manage the risk and complexity of storing vital information. For these organizations cloud archiving is a safe, fast and easy solution to data growth and compliance challenges.
Download white paper to learn more.