Protect Sensitive Data Across all Non-Production and Analytics Environments
In today's digitized world, as organizations move vast amounts of data between production and non-production environments for development, testing, and analysis, the protection of sensitive data in these non-production realms becomes paramount. While production data often benefit from robust security measures, non-production datasets can inadvertently remain exposed, often overlooked in terms of rigorous governance and security. This oversight can pave the way for potential breaches, risking not just regulatory non-compliance, but also reputational damage.
SOLIXCloud Data Masking is the definitive answer to this challenge. Tailored to reinforce the security of sensitive data within non-production environments, Solix offers an unparalleled fusion of sophisticated data discovery and robust masking techniques, ensuring that sensitive information remains shielded from both internal and external vulnerabilities.
The World's Leading Companies Choose Solix
SOLIXCloud Data Masking Key Capabilities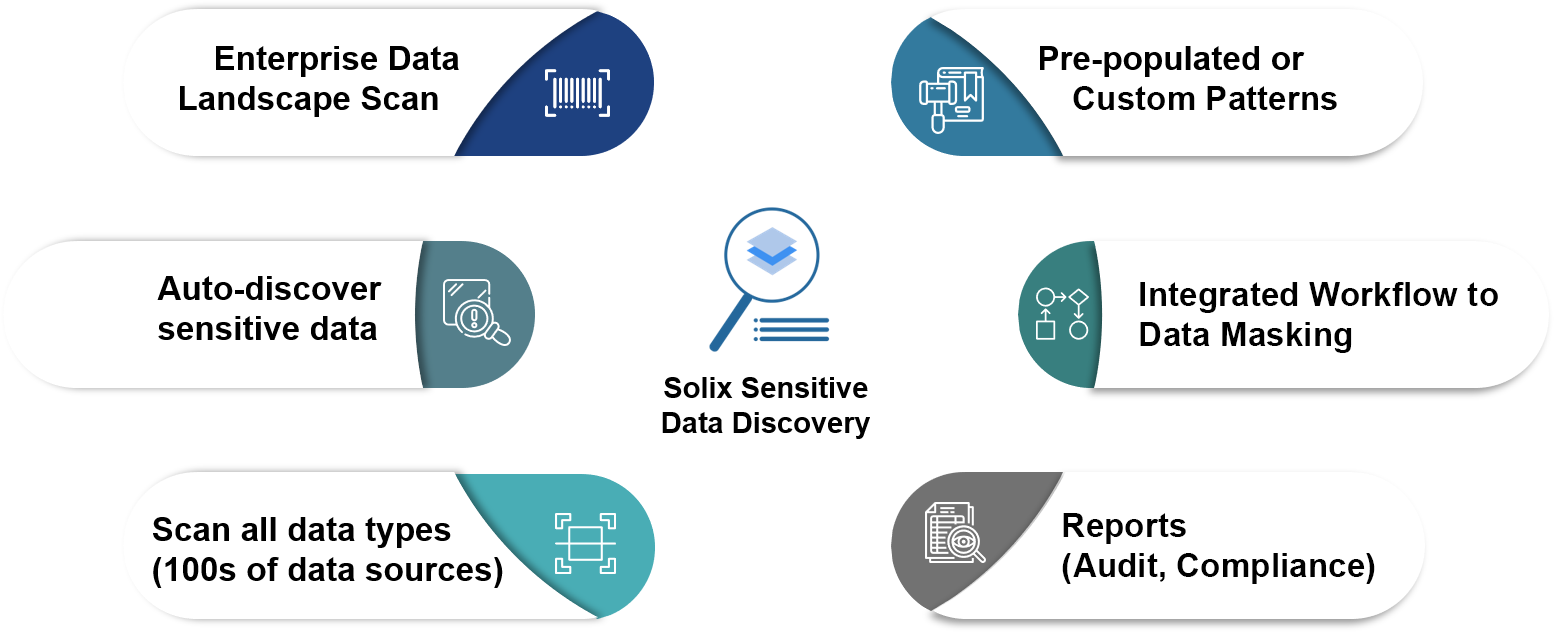 Solix Sensitive Data Discovery
Solix Sensitive Data Discovery offers an expansive suite for identifying sensitive information across hundreds of data sources across On-prem and Cloud environments and spanning structured and unstructured data types. With prebuilt discovery patterns and the flexibility to incorporate custom patterns, identifying sensitive data across the enterprise landscape is now easy and efficient. This holistic solution also provides comprehensive reports, ensuring robust compliance and audit readiness for organizations.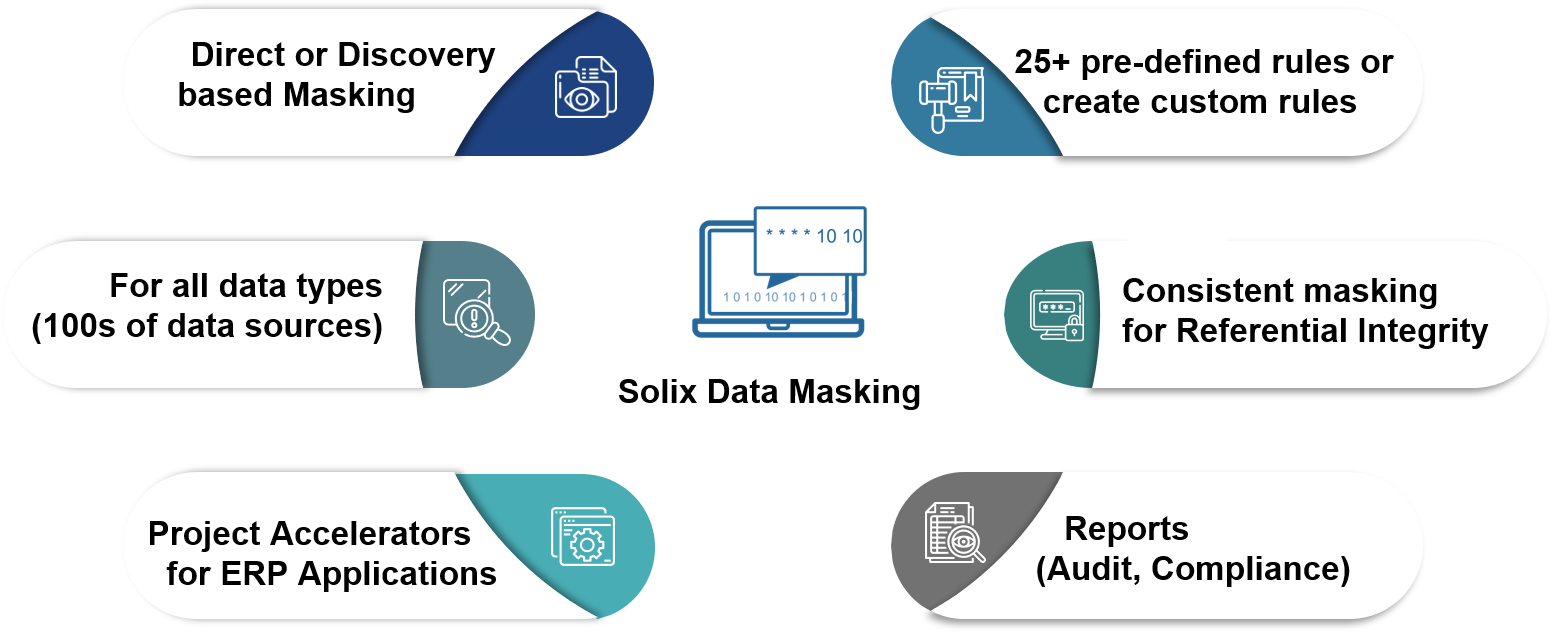 Solix Data Masking
Solix Data Masking offers a comprehensive multi-cloud solution to safeguard sensitive data across diverse data repositories and types. It encompasses a range of masking techniques, such as referential masking, redaction, format-preserving encryption, and more. Users can leverage its pre-defined security rules or introduce custom rules. By preserving format and referential integrity across datasets, Solix ensures that the data remains functional without compromising compliance or data security standards.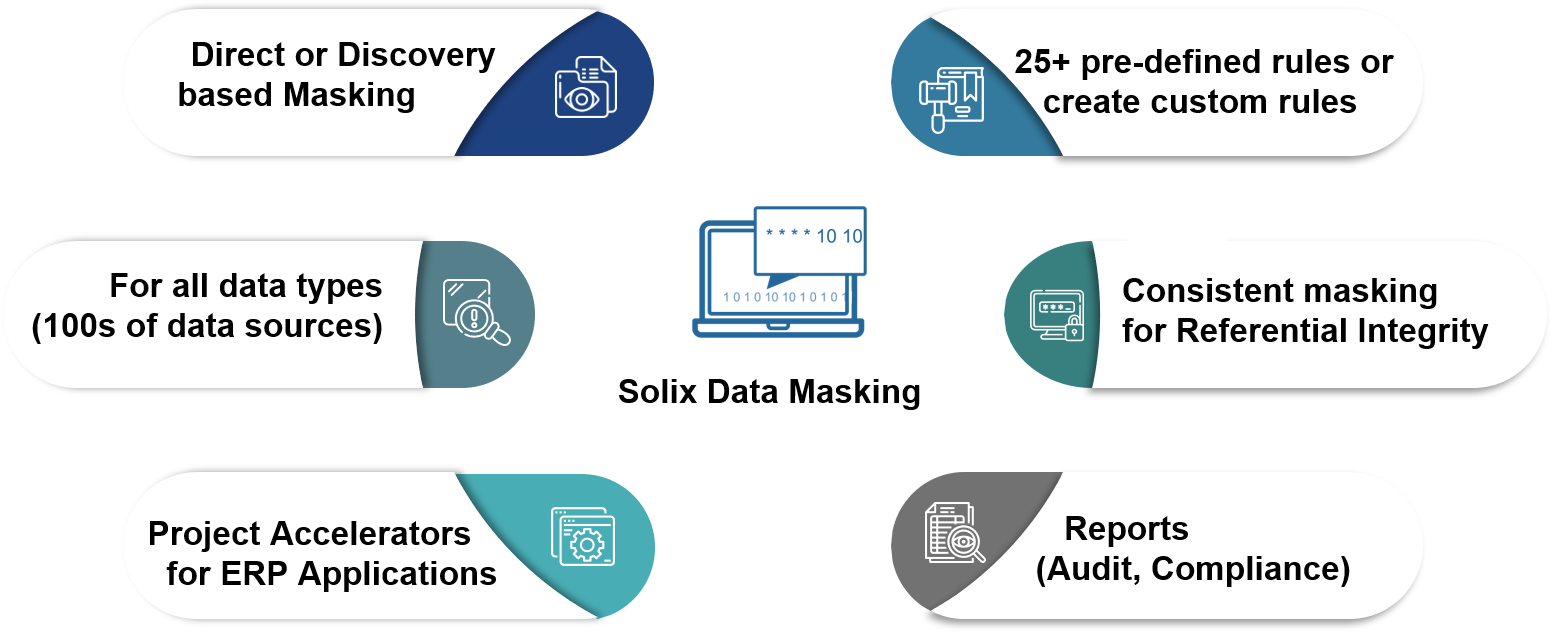 Key Benefits
Unified solution with discovery and masking
Support for 100's of databases, mainframes, and applications
Support for structured and unstructured data
Robust set of Masking Techniques
Preserves format and referential integrity
Pre-configured discovery patterns and masking rules
Ability to add custom patterns and rules
Project Accelerators for ERP applications
Parallel and sequential Masking
Comprehensive reporting for compliance and Audit readiness
Solix Recognitions

Resources
Datasheet

Protect Sensitive Data Across all Non-Production and Analytics Environments

White Paper

The Ethics of Sensitive Data and Solix Technologies

On-Demand Webinar

SOLIXCloud – Re-Inventing Enterprise Archiving In The Cloud With Azure
Need Guidance?
Talk to Our Experts
No Obligation Whatsoever