Active database archiving helps IT organizations meet SLAs, reduce costs, and improve the performance of enterprise applications. Maintenance and overhead costs are reduced, and IT organizations are better able to leverage their existing investments in database technology and storage.
SOLIXCloud Database Archiving manages data as complete business objects which are snapshots of business transactions. Complete business objects include not only transaction level details, but also metadata or "information about the information." For example, an invoice must not only include line items, but also customer name, account number and payment terms.
Archive data is moved (COPY/PURGE/VALIDATE) from the source database according to ILM policies and rules. For instance, all archived invoices must be 18 months old as well as posted and remitted in full. Complete business objects require that related reference and master information all be archived together.
Additionally, SOLIXCloud Database archiving provides a table to table archive with master data synchronization. This approach enables users to run existing SQL code against the archive data model that is same as the source that it was archived from.

Capabilities
Smart Tiered Archiving with Secure Access

Quickly identify inactive data from your production applications, and 'move' it to a secure near-line archive with data integrity and access preserved. This offers the ability to improve application performance, while retaining access to archived data from native applications. As data becomes older (ex: beyond 3 years), archived data can be moved further down to low cost object storage for higher savings. Users can access this data using the full-text search, forms, queries, and reports offered by Solix.

E-Discovery & Legal Hold

Compliance and legal professionals can quickly identify and retrieve records to meet data requests from regulatory bodies and law enforcement. Further, they can place legal holds on records of interest to ensure such data is retained beyond the pre-defined data retention periods to comply with legal proceedings.
Policy-Based Data Retention for Compliance

Retention management holds the archived data for a given period of time, and purges the data automatically, or manually, when the data retention policy meets its criteria. The policy-based retention helps organizations comply with the complex regulations governing data retention and minimizes risks of accidental data deletion from the archive.

Connectivity with Third Party BI Tools

The Solix API offers a fully governed permission-based data access to third party BI tools for historical analysis or reporting. This helps organizations to continue to extract value even from archived data seamlessly.

Administration & Operations

Provides comprehensive administrative capabilities including access controls, status monitor, scheduler, data validations, retention policy management, data purge from source, patch synchronizer, full audit trail, and notifications.
Key Features
Data validation for fail-proof archiving
Validation driven purge of data at source
Meet compliance requirements with policy based data retention and legal hold
Self-service data access powered by Search, EBR, forms and reports
Improve application performance
Reduce maintenance and infrastructure costs
Why choose SOLIXCloud Database Archiving?
Hosted on Microsoft Azure, SOLIXCloud delivers a fully managed low-cost, scalable, elastic, secure, and compliant data management solution for all structured enterprise data.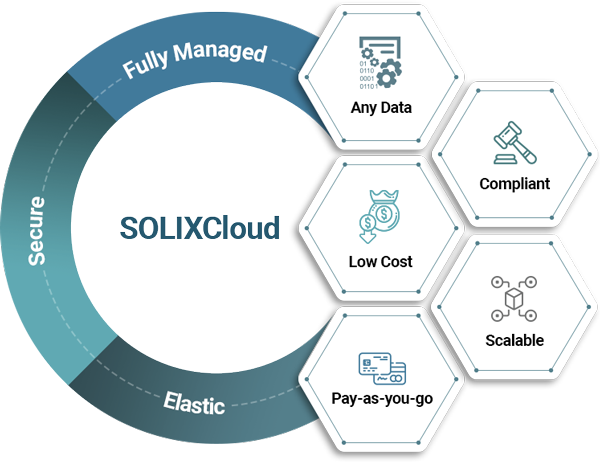 White Paper
Embrace the New Cloud Paradigm to Fuel Digital Transformation
With Data Management Powered by Solix Common Data Platform